Here he comes, here comes Speed Racer.
He's a demon on wheels!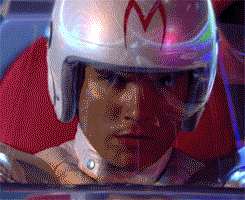 Speed Racer

is one of the first Japanese anime to be produced for the American market. It focuses on the adventures of a young and talented race car driver, Speed Racer; his family; his girlfriend, Trixie; and the advanced race car, the Mach 5. Known as

Mach GoGoGo

(or

Mahha GoGoGo

in the romanization of the Japanese language), this franchise has its origins as a serial in the manga magazine

Shonen Book

written by Tatsuo Yoshida and published by Shueisha in 1966. It then became a dedicated, non-serial book (called a tankoban in Japanese) released by Sun Wide Comics. Tansunoko Productions adapted the successful story into a 52 episode anime that ran from1967-1968.
In the more than 50 years since the creation of

Speed Racer

, there have been character spin-off stories, additional comics and books, two animated reboots, an animated sequel, and a live-action film released in 2008.
Deciphering and Translating

Speed Racer
In the English version, the names and references in

Speed Racer

seem very straight forward. For example:
The story centers around the Racer (surname) family: Pops and "Mom" Racer and their three sons Rex, Speed, and Spritle.

The state-of-the-art race car is called the Mach 5. "Mach" in English is a measurement of velocity with respect to the speed of sound, so it would seem to incite images of going fast. The number 5 is simply the number, or generation, of the car build.

The frequent use of the word "go" in the show's theme song might seem to be a simple cheer as the crowd watches the race.

Speed has a letter "G" monogramed on his shirt, perhaps also a reference to the cheer "go" or maybe to be "going fast."
However, these are misconceptions that become clear when considering the original Japanese and how some of the significance of these ideas got lost in translation:
The name of the series in Japanese is

Mach GoGoGo

and the phonetic pronunciation of those words have different meanings in English.

The main character (Speed Racer) is actually named Go Mifune, with Mifune being the surname.

The name of the race car is Mahha-go.

In Japanese, "go" is the phonetic word for the actual number 5. The name of the car, Mahha-go, translates as "Item Number 5."

The catchy line "Go Speed Racer go" from the American theme song is actually the Japanese title: "Mach-go Go Mifune Go."

The "G" monogramed on the shirt has the double meaning of being both the abbreviation of Go Mifune's name and the car number.

"Go-Go-Go" is how the Japanese make the sound of tires rumbling on a track.
The other characters' names in the original Japanese are:
Daisuke Mifune ("Pops Racer")

Aya Mifune ("Mom Racer")

Kenichi Mifune ("Rex Racer" and "Racer X")

Kurio Mifune ("Spritle Racer")

Michi Shimura ("Trixie")

Sabu ("Sparky" the mechanic)

Sanpei ("Chim-Chim," the family's pet chimpanzee)
​
Speed Racer

Trivia
Tatsuo Yoshida, the creator of

Mach GoGoGo

, got the idea of creating a comic about racing from watching the two movies

Viva Las Vegas

and

Goldfinger

. The race car driver look of Elvis Presley, complete with neckerchief and black hair, became the basis of the hero character. The many gadgets of the Mach 5 were inspired by James Bond's famous Aston Martin.

The main character, Go Mifune, was named in honor of a famous Japanese actor, Toshiro Mifune.

The design of the Mach 5 was based on three popular cars of the time: The Ferrari Testarossa, the Ford GT40, and the Aston Martin.

In America, the show

Speed Racer

is often ridiculed for its very fast dialogue. This was due to trying to squeeze complicated plots into a 22 minute story and the grammatical differences between the two languages. This became a common feature of all anime.

In the manga, Trixie's father owns Shimura Aviation, which explains why Trixie can afford a convertible Mercedes Benz and her own private pink helicopter. This is never revealed in the anime.
Collectibles for

Speed Racer

are becoming harder to find, with Japan having a larger supply chain than the US. However, companies like ReSaurus, Mattel and Johnny Lightning, to name but a few, have been granted merchandising rights for all incantations of

Speed Racer

, including the 2008 movie. Below is an inventory of the items that Starlight Nights has acquired.
Action Figures
Maufactured by ReSaurus in 1999
All figures are complete with accessories
Grand Prix Speed Racer
(Series 2)
Inspector Detector
(Series 2)
Trixie Shimura
(Series 1)
"Racer X" (Rex Racer)
(Series 2)
Captain Terror
(Series 1)
Other Action Figures
(Not available individually, but only in the Exclusive ReSaurus Mach 5 Playset)
Spritle Racer
(Playset Exclusive)
Chim-Chim
(Playset Exclusive)
Mach 5 Playset by ReSaurus
(includes Spritle and Chim-Chim action figures with picnic basket)
The Race Cars
Ertl Diecast Vehicles, 1:18 Scale
Ertl Diecast Mach 5, 1:18 Scale
Ertl Diecast Shooting Star, 1:18
Ertl Diecast Mach 5 35th Anniversary Special Edition, 1:18 Scale
2008 Hot Wheels Super Sound Mach 6, 1:10 scale,
17 inches long
Johnny Lightning Limited Edition First Shot Collection -- Speed Racer, Racer X, Captain Terror, and Snake Oiler.
Johnny Lightning Limited Edition Speed Racer R1 Collection, presented in 3-tier packaging and each including a different Sticker Vignette.
Jada Toys International DuraStar 4400 Trailer Truck and Car Sets -- The Mach 5 and The Shooting Star.
Jada Toys "Road Rigz" Speed Racer Peterbilt 387 Hauler Tractor Trailer, 2008
Mattel Speed Racer Movie Transporter/Launcher Big Rig, 2008.
Other Speed Racer Collectibles
Pachinko-Pachislo Japanese Digital Slot Machine
Fully functional with lights, sound, video, and mechanical wheels. Includes 500 game tokens and both keys (external housing and internal security money/settings). Internal security also includes 6 game modes. The unit even includes the original built-in ash tray!
Displayed on a 42-inch marble column.
Complete, working, and very rare.
Pachinko

is Japanese for "mechanical, recreational game."

Pachislo

is Japanese for "slot machine" (also:

Panchislots

).
Curator Desiree Webber winning caught on video, demonstrating one of the video/music/light modes of the machine. Enjoy!
Internal set-up and wheels
Internal settings/security key
Door electronics and coin dispenser
PSC International Corp. Collectibles
PSC International Corp. Limited Edition Speed Racer Bookends, 423/5000, complete with box and COA. This set was released in 2000 and is difficult to find complete.
PSC International Corp. Limited Edition Speed Racer Cookie Jar, 1524/5000, complete with box and COA. This porcelain canister comes in two pieces and was released in 1992. Very rare and difficult to find complete.
PSC International Corp. Limited Edition Mach V Snow Globe, with Speed Racer out front and featuring the entire cast within the globe. Released in 2000 and number 37/7500 -- a very low number!
PSC International Corp. Limited Edition Speed Racer Snow Globe. Released in 2000 and number 615/7500. The box is in rough shape, but it is 20 years old! We are proud to have it in our collection.
Warner Bros. Entertainment Collectibles Speed Racer Hand-Painted Diorama Statue, 2014
Hot Wheels Speed Racer Super Grand Prix Race Slot Car Set
HO Scale, functional with box. 2008.
Radio Controlled Mini Racers
Both New in Box
Original Replacement Battery
BitChar-G Mahha-Go
(Mach 5)
Mini Racer
MIT Shooting Star
(Racer X)
Mini Racer
Speed Racer 50th Anniversary Collector's Edition DVD/Blu-Ray Set
NTSC, widescreen, dubbed in English. 2017.
Collectible Speed Racer Bust with sound effects, movable visor, and storage compartments.
Storage Compartment 1 contains 26 disks in 5 boxes that stack to form an image:
1967 Speed Racer Collection

1967 Mach Go Go Go Collection

1997 Mach Go Go Go: Restart Collection

2017 Corinne Orr Interview ("Trixie")
Storage Compartment 2 contains a collectible Speed Racer Keychain
Advertising photo of the entire set. A promotional video may be found

here

.
Funmation's

Hey Nice Package

review of the Speed Racer 50th Anniversary Collector's Edition set
Miscellaneous Collectibles
Mattel

Speed Racer

Movie (2008) Electronic Replica Helmet
2008

Speed Racer

movie poster showing the helmet.
Speed Racer

Movie Trailer
(Warner Bros. Pictures, 2008)
Speed Racer's helmet as seen in the anime series.